Millions of elderly Americans struggle with Alzheimer's disease and various forms of dementia. Unfortunately, not all those struggling receive the help and medical assistance they need to manage these complex and disruptive conditions. It can be heartbreaking for any family to watch a loved one struggle with the early stages of dementia. Those with advanced conditions require carefully managed memory care to ensure the best quality of life.
Dementia care is unique from standard nursing home treatment or assisted living programs. An elder struggling with dementia is likely to need assistance in managing their medical needs, day-to-day household tasks, eating, dressing, and handling errands. At Rocky Mountain Assisted Living, our residents can have fully individualized memory care treatment handled by an experienced care team.
We provide a complete spectrum of elder care services that are individually tailored to each resident's needs. We understand that your loved one's needs are unique and will take time to create a care plan that can evolve with their needs. When it comes to where dementia patients go after memory care, our flexible program ensures residents can remain in familiar and welcoming surroundings.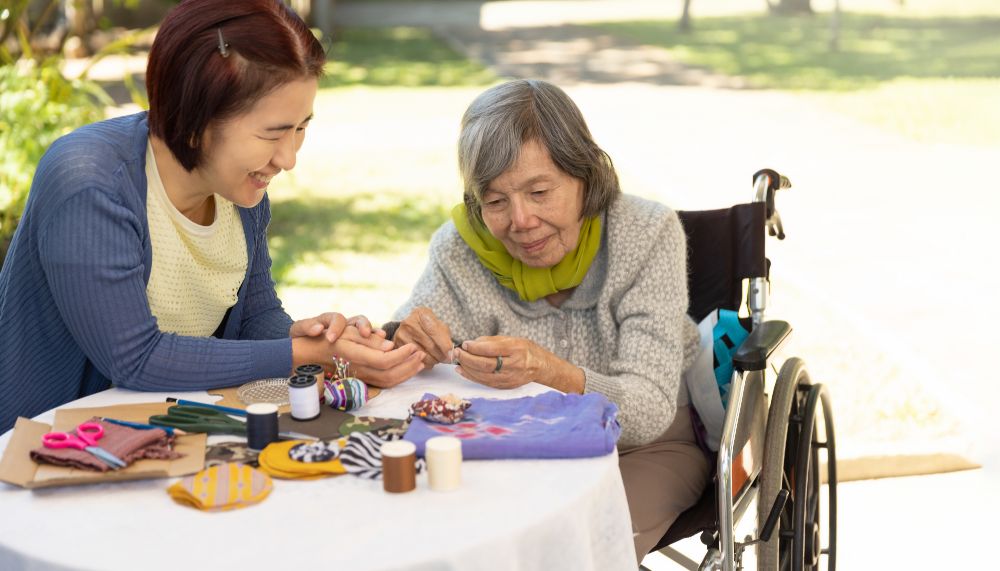 How Is Dementia Treated?
Various forms of dementia are neurodegenerative conditions that gradually erode the brain's ability to function correctly. Elders with dementia typically enter memory care programs aimed at helping them manage their symptoms, but eventually, these programs run their course and are no longer effective. In many of these situations, families wonder where dementia patients go after memory care. In most cases, they go to nursing homes for more clinical day-to-day care.
Many elders dread the idea of confinement in a nursing home and do everything they can to maintain their independence as long as possible. However, some memory care programs cannot help residents with very advanced symptoms, and these programs will generally transfer such patients to nursing home facilities. Rocky Mountain Assisted Living understands the hesitation many elders and their loved ones have at the thought of entering nursing homes, which is why we have developed a unique treatment program centered on each patient's individual needs.
The memory care facilities we operate were constructed with the physical needs of elderly memory care patients in mind. Wide hallways, safety supports throughout each room, color coding, and visual cues help residents navigate their memory care facilities more easily. We also arrange a wide variety of day-to-day activities and therapies that can help residents cope with dementia symptoms and even have breakthroughs in their memory care programs. Music, art, group discussions, reminiscing with peers, and outdoor activities can all promote better memory care outcomes.
When your elderly loved one attends memory care or dementia care treatment at Rocky Mountain Assisted Living, they will have access to the full scope of care they require to manage their other medical conditions. We carefully review resident medical records to ensure prescriptions are taken according to doctor instructions and each patient has access to appropriate therapeutic care.
Options After Memory Care
Due to the nature of neurodegenerative conditions like dementia, eventually, a patient will require more intensive daily care than a memory or dementia care program can offer. When symptoms can't be managed effectively any longer, or if the resident displays a significant downturn in the severity of their symptoms, the family may need to transfer them to a higher tier of everyday care.
The typical solution to ongoing treatment following a memory care program is a nursing home program. When memory care is no longer effective, the resident will need careful and consistent monitoring of their symptoms, and this requires a more clinical setting. Unfortunately, many elders who must make this transition do not enjoy the hospital-like setting and are disheartened by the change.
Rocky Mountain Assisted Living developed an elder care program that evolves with each resident's needs, from basic assisted living to advanced nursing care. One of the unique benefits of choosing Rocky Mountain Assisted Living for your elderly loved one is the fact that their treatment program will change with their needs. Our team provides a full spectrum of elder care, including individually customized memory care programs.
Our Approach to Memory Care
When your elderly loved one needs a memory care program, they must receive individualized treatment. Dementia affects everyone uniquely, so there are no one-size-fits-all treatment options when it comes to memory care. Rocky Mountain Assisted Living has built a memory care program based on individual needs. We take time to learn each resident's unique goals, concerns, and medical requirements to help develop a customized care plan.
Our care plans are dynamic, too. As your loved one's needs change, we'll alter our care plan accordingly. This ensures your relative can enjoy the maximum safe level of daily independence for as long as possible and that they will have more intensive daily support ready when they need it. If a resident begins care with us at a basic assisted living level, they may eventually need memory care treatment. Once memory care has exhausted its efficacy for them, they can move on to a carefully regimented nursing program, all within the Rocky Mountain Assisting Living community.
The facilities our team has constructed throughout Colorado offer a home-like atmosphere that we believe increases the effectiveness of our unique approach to elder care. Memory care programs can be emotionally stressful and intimidating in some cases, and elders need a welcoming and supportive environment to take full advantage of memory care treatment. Our residential facilities are spacious, welcoming, and provide privacy and comfort to every resident. Open floor plans and large shared spaces encourage socialization, engagement, and enthusiasm each day.
Rocky Mountain Assisted Living for Dementia Care
If your loved one is struggling with the early stages of dementia, it's easy to feel daunted by the importance of your choice in memory care. You need to find a program that can address your loved one's unique needs in terms of both physical health and memory care. Rocky Mountain Assisted Living provides a full spectrum of elder care options, and we tailor care to the individual resident's needs. Contact us today for more information about our memory care services.