Welcome to our newest Lakewood assisted living location located near the Lakewood Country club. This home features 12 private rooms with full bathrooms in each room. This home is currently under construction and is expected to open February of 2021. Please call for more info on pricing and availability to tour. (303) 996-6886
As our loved ones grow older, we are often faced with difficult decisions regarding how to care for them in their golden years. Some elderly folks require around-the-clock care while others remain quite independent well into their 80's and 90's. If you have an elderly family member who is in need of some degree of assistance or if you have a disabled loved one who may need some help with day-to-day activities, you may want to consider Rocky Mountain Assisted Living with numerous locations in Lakewood, Centennial and Highlands Ranch, Colorado.
ABOUT OUR LAKEWOOD ASSISTED LIVING HOME
Thoughtfully selected flowers and shrubbery line the entrance to your loved one's assisted living home in Lakewood, Colorado. Each room of their intimate home encompasses the personal, warm touches you would create for your family home, but with discrete elements to make each feature of the home accessible and safe for your loved one. Bathrooms are appointed with all the interior design elements of a carefully decorated home bathroom and equipped with hand rails and accessible toilets, bath tubs, and showers a senior's changing needs.
Walk into the kitchen and you will find a place to gather and prepare your favorite meals on generous counter space and beautifully selected cabinetry. This provides your loved one with the opportunity to be as independent as they can or wish to be, while having the support of constant care from our compassionate and caring Lakewood team for meal preparation when needed or wanted.
Rocky Mountain Assisted Living's Lakewood assisted living location offers an intimate home setting with progressive levels of care. Regardless of your loved one's level of independence or care requirements, they will find the balance they need at Rocky Mountain. We are dedicated to promoting independence, protecting dignity, and nurturing your loved one's functional and social needs. With a diversity of interests and personalities, our senior residents each have a unique life story. We help them to carry out their desire to live independently as long as possible, while providing around-the-clock access to medical care and assistance with day-to-day activities when needed.
Shared space
Living Room
Dining Area
Kitchen
Activety Area
Laundry
Public Bathroom
Private living space
Private Bathroom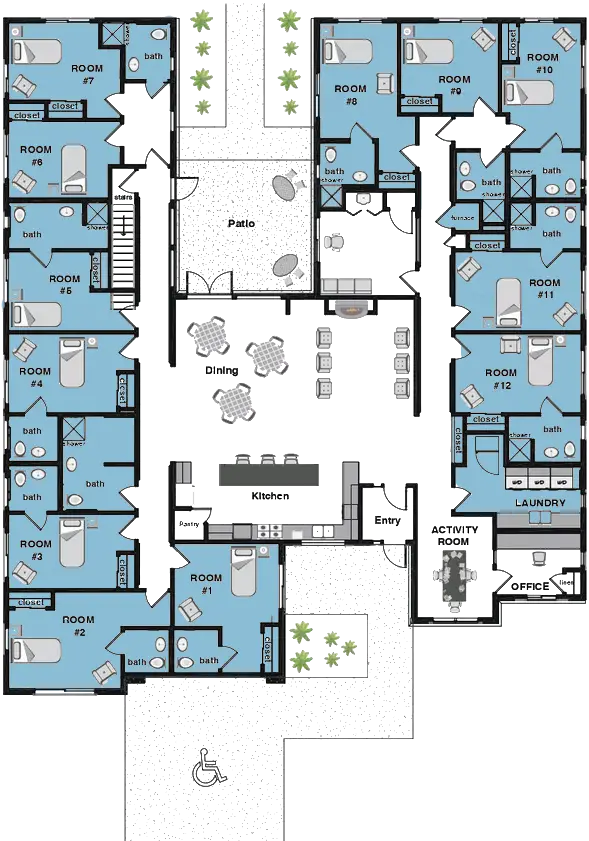 YOUR LOVED ONE'S CARE PLAN
One aspect that makes Rocky Mountain Assisted Living stand out from other facilities is that each and every client care plan at Rocky Mountain Assisted Living is custom tailored to meet the individual needs of your loved one. No two care plans at Rocky Mountain Assisted Living are ever alike. Our professional, compassionate team prides itself on allowing your loved ones to age with dignity in a setting that reminds them of their own home.
Your loved one's care plan may include any combination of the services below:
Dressing Assistance

Bathing Assistance

Ambulation Assistance

Incontinence Management

Medication Management

3 Nutritious Meals-Plus Snacks

Laundry & Linen Services
Multiple Activities throughout the Day

Scheduled Outings

Walk-In Hydrotherapy Tub

Call system in every room and Bathroom

On-Site Physical Therapy
On-Site Physician visits

Coordination of Care with your Doctor of Choice

Hospice Services

Night Time Checks

Handicap Accessible Rooms and baths
If you feel your loved one needs a service that you don't see listed here, simply ask about it, and we're sure we'll be able to accommodate you. The reason why so many families choose Rocky Mountain Assisted Living is that we treat all of our clients as if they were family. We encourage you to regularly meet your loved one's caretakers, and we are diligent about always letting you know about any changes that may be necessary to the care plan.
If you're struggling with the decision of how to provide care for an elderly or disabled loved one, please contact Rocky Mountain Assisted Living today.
Schedule a Tour
Deciding about memory care for your elderly loved one is understandably challenging. It's natural to want to see where your loved one will be living and what they will be doing on a daily basis before committing to a memory care facility's service. We encourage anyone who is interested in the memory care services offered by Rocky Mountain Assisted Living to schedule a tour of our grounds so they can see our facilities and resources for themselves.
We have memory care facilities located in Centennial, two in Lakewood here and here, Wheatridge, and Thornton.
With our support, your loved one can maintain their desire for an independent home setting, while gaining the support and security of a caring team available to meet their needs 24/7. We have limited availability. So call now to ensure your loved one gets the help they need.
TESTIMONIALS
Rocky Mountain Assisted Living is the best company I have ever worked for. I have been a CNA for 22 years and have worked in several different work environments. I have worked in nursing homes, assisted living homes, done home care, run an adult family home and RMAL has provided the best work environment. The residents are very well taken care of, and employees are taken care of as well.
I was impressed with how genuine and caring the staff are at Rocky Mountain Assisted Living. The owner and all management staff really care about the residents. This was a new transition for my father but they have done wonderful things with him.