Quincy Avenue Memory Care
Many senior citizens deal with memory loss from dementia or Alzheimer's disease. You or a family member may be in the early phases or further along with serious degenerative conditions. Whatever stage you or your family member are facing, Rocky Mountain Assisted Living on Quincy Avenue can help. We know that you're going through challenging times, and we offer personalized services to assist senior citizens with the difficulties they're facing. Memory loss can lead to confusion and frustration, and we want to help you through it. Memory care is a special type of attention for those suffering from memory loss to ensure they maintain a good quality of life.
It can be hard to know when you or a loved one needs memory care. If an elderly family member is having a hard time with tasks they are used to performing every day, like cleaning, cooking, bathing, and taking medication, they may need care from compassionate professionals. Their difficulty could arise from complications of old age or from more serious issues like memory loss. The care we offer at Rocky Mountain Assisted Living can provide simple assistance as well as constant care, depending on the individual requirements of each resident.
Why Should I Consider Rocky Mountain Assisted Living?
If you've determined that your family member needs memory care, it's important that you research the facilities and programs that can give them assistance. Here at Rocky Mountain Assisted Living, we strive for personalized and comprehensive plans for each person we serve. People will react to memory loss unpredictably. Our staff is understanding and caring about these hardships, and we want to care for your family member with a personalized plan.
You also want to investigate treatments focused on rehabilitation and therapy offered in facilities. Here, we provide an array of amenities and comforts to maintain a high quality of living. Our staff takes their time getting to understand each person, enabling us to give them the highest care.
Why Should I Choose Memory Care?
Memory loss can cause your family member to struggle with daily tasks and even cause them danger. That's why professional memory care is important to ensure they receive constant support for a fulfilling and safe life. Additionally, dementia, Alzheimer's, and other causes of memory loss need medical treatment and care.
At Rocky Mountain Assisted Living, we can bring your loved one the care they need, allowing you to feel calm about their safety. We help with medical therapies and treatments so that our patients can retain as much life fulfillment and independence as possible.
We ensure that the care plan for your family member is unique to their needs, which allows them a better quality of living than basic care plans by nursing facilities. In order to properly care for those dealing with memory loss, individual attention and treatment is a necessity. At Rocky Mountain Assisted Living, we provide that care.
Memory Care Accommodations
Our living accommodations on Quincy Avenue are spacious, and they provide privacy for individuals, easily accessible social gatherings, and many activities. Each living area has individual rooms that have private bathrooms, so you don't have to feel concerned about your elderly family member in an unsuitable living space. There are shared living areas for socialization, meals, and treatment. We also ensure security in our facilities for the safety of those experiencing loss of memory.
What Is Memory Care?
Memory care requires complex and personalized attention, and Rocky Mountain Assisted Living prides itself on our comprehensive memory care program, with treatments and therapies each playing a crucial part in personalized treatment plans.
Memory loss, and memory itself, are complex, and we can use several activities and ways to engage the senses to improve memory and sometimes recover from some of the symptoms that memory loss brings. Engaging in activities like conversation, music, and art can help patients feel an increased sense of control and independence. Treatments like reminiscence therapy can help some patients, while others prefer directing themselves. We also can help patients work with their relatives to deal with family-related memory loss.
We ensure that your elderly family member will be given high-quality amenities, meals, and medical care. We employ a staff that is caring and highly trained and can take care of services like dressing, bathing, laundry, and housekeeping. We work hard to be flexible to the individual needs of all our residents.
Memory Care Therapies
Our therapies, treatments, and relaxation techniques are used by the residents in ways that work best for them and are often a fun experience. Some of our treatments available in the Quincy Avenue unit of memory care include:
Cognitive therapy
Media therapy
Group therapy
Music and art therapy
Reminiscence therapy
At Rocky Mountain Assisted Living, our treatment plans are tailored to individual residents and work towards structured care as well as personal independence. There is a fast-growing population of senior citizens, and it's important to inform yourself about the options for treatment and the availability of memory care. While recovery is sometimes possible, it's often necessary to provide monitoring and management of symptoms and help your loved one maintain a quality of life in safety. We at Rocky Mountain Assisted Living want to provide robust treatment and care, allowing your family relief and calm.
Reach Out to Our Memory Care Professionals on Quincy Avenue
We aim to provide compassionate treatment and therapies with our expert and caring team, ensuring that your loved one receives care without sacrificing their independence and freedom. The team at Rocky Mountain Assisted Living strives to meet the needs of your loved one, going above and beyond to ensure they are cared for with kindness and dignity. If you want to get more information about our treatments, therapies, and services in memory care, contact Rocky Mountain Assisted Living today. Our team can talk with you, answer your concerns and questions, and schedule a consultation to see if our facility is the best fit for you and your loved one.
Rocky Mountain Assisted Living offers an intimate home setting with progressive levels of care. Regardless of your loved one's level of independence or care requirements, they will find the balance they need at Rocky Mountain. We are dedicated to promoting independence, protecting dignity, and nurturing your loved one's functional and social needs. With a diversity of interests and personalities, our senior residents each have a unique life story. We help them to carry out their desire to live independently as long as possible, while providing around-the-clock access to medical care and assistance with day-to-day activities when needed.
Shared space
Living Room
Dining Area
Kitchen
Activety Area
Laundry
Public Bathroom
Private living space
Private Bathroom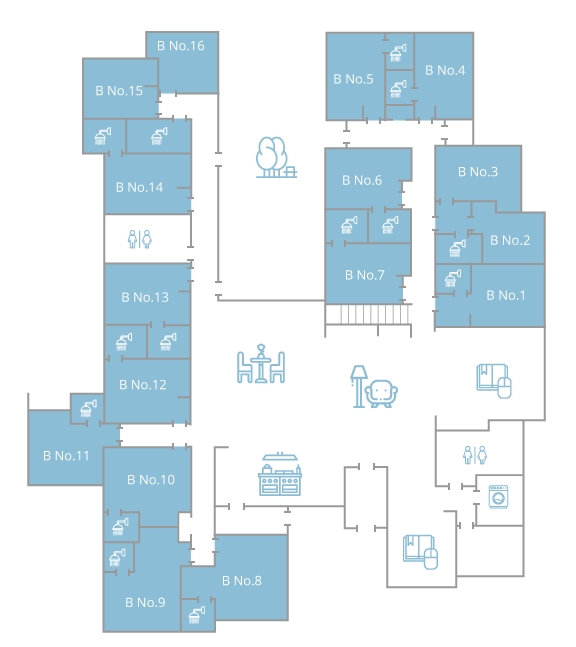 Schedule a Tour
Deciding about memory care for your elderly loved one is understandably challenging. It's natural to want to see where your loved one will be living and what they will be doing on a daily basis before committing to a memory care facility's service. We encourage anyone who is interested in the memory care services offered by Rocky Mountain Assisted Living to schedule a tour of our grounds so they can see our facilities and resources for themselves.
We have memory care facilities located in Centennial, two in Lakewood here and here, Wheatridge, and Thornton.
With our support, your loved one can maintain their desire for an independent home setting, while gaining the support and security of a caring team available to meet their needs 24/7. We have limited availability. So call now to ensure your loved one gets the help they need.
TESTIMONIALS
Rocky Mountain Assisted Living is the best company I have ever worked for. I have been a CNA for 22 years and have worked in several different work environments. I have worked in nursing homes, assisted living homes, done home care, run an adult family home and RMAL has provided the best work environment. The residents are very well taken care of, and employees are taken care of as well.
I was impressed with how genuine and caring the staff are at Rocky Mountain Assisted Living. The owner and all management staff really care about the residents. This was a new transition for my father but they have done wonderful things with him.