Rocky Mountain Offers Assisted Living in Lakewood
As our loved ones grow older, we are often faced with difficult decisions regarding how to care for them in their golden years. Some elderly folks require around-the-clock care while others remain quite independent well into their 80's and 90's. If you have an elderly family member who is in need of some degree of assistance or if you have a disabled loved one who may need some help with day-to-day activities, you may want to consider Rocky Mountain Assisted Living with numerous locations in Lakewood, Centennial and Highlands Ranch, Colorado.
Deciding upon a care plan for elderly loved ones is a challenge. The process requires reverence for your loved one's next phase of life. This phase may involve more support than your senior is used to, and that can be tricky to navigate at first. Deciding how to implement lifestyle changes to help your loved one is an emotionally charged process and one that can cause conflict and stress for your family. Assisted living facilities are a fantastic choice for anyone who needs a bit of help, as they blend the independence your loved ones want with the support that puts their families at ease. Assisted living provides both care and support, and socialization to your loved one. Many people who need extra mobility help or medical care often isolate themselves from others, making it hard to foster a sense of community. Lakewood assisted living from Rocky Mountain helps with that.
Unique Assisted Living Options
Not all senior and disabled living facilities are the same. Many facilities implement policies and procedures that are not tailored to the individuals under their care. The facilities that operate on a one-size-fits-all basis cannot possibly provide the right care for all of their residents, each of whom has their own set of unique needs to meet. Some elderly folks require around-the-clock care while others remain quite independent well into their 80s and 90s. Similarly, some folks with disabilities can function with minimal help, while others need monitoring and help at all times.
At Rocky Mountain Assisted Living in Lakewood, we run our facilities in a way that celebrates and cares for individual needs. Rather than creating a system where all residents receive the same care, we tailor our program options and care schedules to our residents. Whereas some residents may need more help, others may be largely independent except for the odd chore or outing. No matter your loved one's mobility level and specific needs, we at Rocky Mountain Assisted Living will provide personalized care that supports your loved one's unique wishes.
Lakewood Assisted Living from Rocky Mountain Goes the Extra Mile
Feeling at ease in assisted living is essential to the happiness of all residents and their families. Many facilities do not take this into account, and their decor gives off a hospital or nursing home's sterile feel. At Rocky Mountain Assisted Living, we take great care to ensure that our facilities feel like home. We pay attention to details to ensure that our facilities are thoughtful as well. Thoughtfully selected flowers and shrubbery line the entrance to your loved one's assisted living home in Lakewood, Colorado. Our units are designed to look like a normal suburban neighborhood, where everyone can feel at home. Our attention to detail extends much further than our outside landscaping. Indoors we create beautiful spaces that are specific to your loved one's tastes. Despite all this, we know that our facility's appearance is not the main reason for choosing assisted living, so we ensure that all our units are safe and accessible as well as homey and comfortable.
Each room of the home encompasses the personal, warm touches you would create for your family home, but with discrete features that make the property accessible and safe for your loved one. Bathrooms are appointed with all the interior design elements of a carefully decorated home bathroom and equipped with hand rails and accessible toilets, bath tubs, and showers for a senior's changing needs. Our services can evolve as your family member's needs change; tailoring our care is an ongoing process.
Cooking at Rocky Mountain Assisted Living
The kitchens in our units are a source of pride at Rocky Mountain Assisted Living. We understand that many seniors still love to cook and prepare food for themselves, so we ensure that they have the opportunity to do so in our senior living facilities. Walk into the kitchen and you will find a place to gather and prepare your favorite meals on a generous counter space and beautifully selected cabinetry. This provides your loved one with the opportunity to be as independent as they can or wish to be, while having the support of constant care from our compassionate and caring Lakewood team for meal preparation when needed or wanted. Preparing meals is a source of joy in many people's lives, and we embrace that passion with our state-of-the-art kitchens.
Specialized Care in Rocky Mountain Assisted Living
We understand that each resident's reason for needing assisted living is different. Assisted living care must be created specifically to meet each individual's needs. We infuse this belief into our work and provide care exclusive to your loved one's necessities. We are passionate about nurturing our residents' individuality while providing a community in which they can thrive. Each of our residents has a unique life story and challenges that make them who they are. We embrace these differences by truly listening to our residents and their families and providing the most personalized care possible. We believe this increases happiness in our residents while still giving peace of mind to their families.
Lakewood Assisted Living Services from Rocky Mountain Assisted Living
In our quest to provide an exemplary environment for your loved one, we offer a wide range of services and amenities that enhance their lifestyle. Aside from our exemplary homes, we provide exclusive benefits to our residents that we believe benefit their well-being. Ranging from entertainment to safety measures, our incredible services and amenities help our residents relax and enjoy themselves. All of the following services are included in their room and board fees:
Music and art classes. Keeping our residents engaged in art and music is important to us, and our residents enjoy the classes. These activities keep them creative and help ward off depression and anxiety.
Wide halls and doorways. Our homes are designed to accommodate all accessibility needs. Made with hardwood floors that allow for easy passage, along with the wide door frames and hallways, wheelchairs, canes, and walkers move through without issue. Your loved one won't feel trapped or confined due to a lack of access to areas of the home.
Rounding physicians and medication management. Health care is incredibly important to us at Rocky Mountain Assisted Living, so we provide a rounding physician to check on our residents' health regularly. This service is usually covered by insurance and is an excellent perk that allows for peace of mind and symptom monitoring. Our licensed staff administers medication, so you know that your loved one is taking their medications correctly and on time.
Physical therapy exercises. To keep our residents moving in ways that are safe for their bodies, we provide exercise classes and help with physical therapy. This movement helps many residents strengthen their muscles and, in some cases, helps individuals regain mobility that they'd previously lost.
Walk-in jacuzzi tubs. Your loved one can relax and wind down in our spa-level jacuzzi tubs. Modified to fit accessibility needs, these tubs provide luxury and decadence with a decreased risk of injury.
Month-to-month contracts. We know that change is a part of life. Our month-to-month contracts give your family flexibility.
24-hour awake staff. There is always someone on site who is ready to help your loved one with anything they may need. No need to worry about waking anyone or waiting for an emergency to call for help; our staff is ready to assist every moment of the day.
Bathing and dressing assistance. Some of our residents have mobility or motor skill issues that make it hard to do things like bathing and dressing. We provide dignified, respectful assistance in these areas at any time of the day or night.
Homemade meals and snacks. While there are options for your loved one to cook for themselves if they so choose, we provide cooking services as well. For some people, not having to worry about meals is an incredible relief. Special meals can be prepared at an additional cost.
These services, along with many others, are available to our residents as part of their assisted living package. We are proud to provide a wide variety of perks to those who stay with us.
More Services Available for Additional Cost
In order to keep costs low while providing a wide range of care, Lakewood assisted living from Rocky Mountain offers a variety of options for those who want them but don't include them in our packages to save the money of those who do not need or wish to participate. These are some of the extra services we offer:
Hair care. At Rocky Mountain Assisted Living, we know that beauty does not diminish because of age or disability. To make our residents see and appreciate their appearance, we offer haircuts and hairstyling if residents so choose.
Incontinence supplies. Incontinence is common among those in assisted living, and we know it's nothing to be ashamed of. However, stocking supplies can be hard for some people. To prevent your loved one from having to worry, we can provide incontinence supplies to their unit discreetly.
Cognitive therapy. Some residents of assisted living benefit from cognitive therapy. This is a type of psychotherapy that helps manage stress, anxiety, and depression. We provide our residents with the option to make sense of their feelings and talk to someone who can help.
There are many other medical services that we're proud to provide at an additional cost. In some cases, your loved one's insurance provider may cover one or more of these services.
When to Look at Lakewood Assisted Living from Rocky Mountain
It's difficult to know when the time is right to put your loved one in assisted care. Though you may do your best, assisted living often provides a level of care that families simply cannot. It's not a failure on your part if you can't keep up with your family members' constant needs. Some people need more help than families can provide, and that's why we strive to provide such personalized service. We want you to know that your loved one is cared for through and through. Eliminating anxiety for your family and your senior loved one is a huge draw of assisted living. In some cases, there are more intense memory or mobility issues, or even an accident that pushes family members to explore assisted living. Unfortunately, there is no one definite sign that it's time to make the switch, but here are a few reasons we see families begin to explore assisted living.
A handicap or disability has made it impossible for your loved one to function normally.
Their home can no longer accommodate their changing mobility needs.
They've lost a sense of community and are looking to regain it.
There are essential or private chores that are too difficult for them to manage on their own.
An injury or health scare has left them fearful of being alone.
You have had to hire a medical professional to visit them frequently.
The death of a loved one or friend has left them depressed and isolated.
Many families struggle with the decision to make a switch to assisted living. While it's true that assisted living is a big adjustment, it ultimately enhances your loved one's quality of life.
See for Yourself
We understand how emotional making the switch to assisted living can be. Though we have top-of-the-line care, many families feel anxious about leaving their loved ones without close family or friends nearby. It's natural to want to take every precaution to ensure that your loved one will be safe and happy in their new home; we see this all the time with our residents' families. This is why we encourage anyone exploring Lakewood assisted living to reach out to us. We can answer all of your questions by phone and email and offer tours and in-person meetings with our staff to put your mind at ease. Our staff is well versed in resident care as well as family sensitivity, and we are here to support you as much as we support your aging family members. Many people find tours helpful, and most leave feeling confident in their decision to move their loved one into Lakewood assisted living. Our facilities are state of the art, and we're proud of the community that we've created and the services we provide. We would love nothing more than to answer all of your questions and give you a tour of Lakewood.
The Best Care in Lakewood
For assisted living in Lakewood, Colorado, look no further than Rocky Mountain Assisted Living. Our Lakewood location provides all the care and attention to detail that you expect from Rocky Mountain Assisted Living, all in a brand new facility. Opening in 2021, we are excited to expand our passion for care and the ability to support seniors and people with disabilities in the Lakewood area. When it comes time to move your family member into assisted living, nobody will treat them more like family than the staff at Rocky Mountain Assisted Living. Spots are limited and going fast, so contact us today to get started.
Rocky Mountain Assisted Living offers an intimate home setting with progressive levels of care. Regardless of your loved one's level of independence or care requirements, they will find the balance they need at Rocky Mountain. We are dedicated to promoting independence, protecting dignity, and nurturing your loved one's functional and social needs. With a diversity of interests and personalities, our senior residents each have a unique life story. We help them to carry out their desire to live independently as long as possible, while providing around-the-clock access to medical care and assistance with day-to-day activities when needed.
Shared space
Living Room
Dining Area
Kitchen
Activety Area
Laundry
Public Bathroom
Private living space
Private Bathroom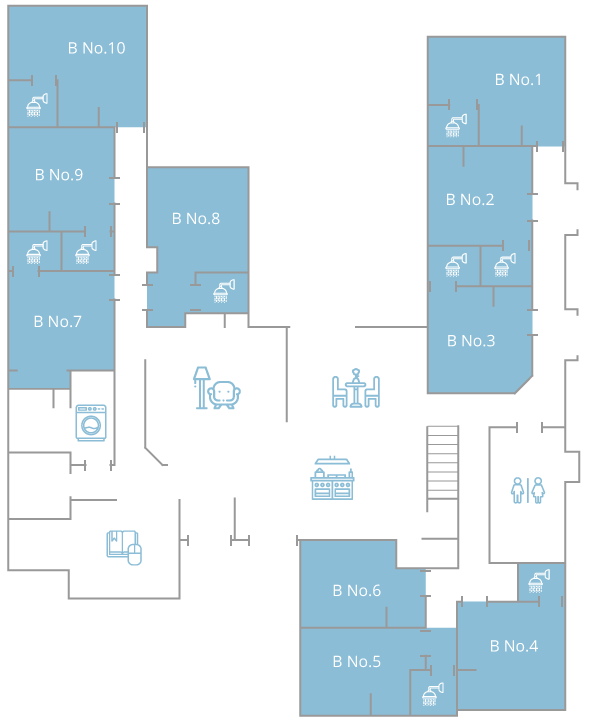 YOUR LOVED ONE'S CARE PLAN
One aspect that makes Rocky Mountain Assisted Living stand out from other facilities is that each and every client care plan at Rocky Mountain Assisted Living is custom tailored to meet the individual needs of your loved one. No two care plans at Rocky Mountain Assisted Living are ever alike. Our professional, compassionate team prides itself on allowing your loved ones to age with dignity in a setting that reminds them of their own home.
Your loved one's care plan may include any combination of the services below:
Dressing Assistance

Bathing Assistance

Ambulation Assistance

Incontinence Management

Medication Management

3 Nutritious Meals-Plus Snacks

Laundry & Linen Services
Multiple Activities throughout the Day

Scheduled Outings

Walk-In Hydrotherapy Tub

Call system in every room and Bathroom

On-Site Physical Therapy
On-Site Physician visits

Coordination of Care with your Doctor of Choice

Hospice Services

Night Time Checks

Handicap Accessible Rooms and baths
If you feel your loved one needs a service that you don't see listed here, simply ask about it, and we're sure we'll be able to accommodate you. The reason why so many families choose Rocky Mountain Assisted Living is that we treat all of our clients as if they were family. We encourage you to regularly meet your loved one's caretakers, and we are diligent about always letting you know about any changes that may be necessary to the care plan.
If you're struggling with the decision of how to provide care for an elderly or disabled loved one, please contact Rocky Mountain Assisted Living today.
Schedule a Tour
Deciding about memory care for your elderly loved one is understandably challenging. It's natural to want to see where your loved one will be living and what they will be doing on a daily basis before committing to a memory care facility's service. We encourage anyone who is interested in the memory care services offered by Rocky Mountain Assisted Living to schedule a tour of our grounds so they can see our facilities and resources for themselves.
We have memory care facilities located in Centennial, two in Lakewood here and here, Wheatridge, and Thornton.
With our support, your loved one can maintain their desire for an independent home setting, while gaining the support and security of a caring team available to meet their needs 24/7. We have limited availability. So call now to ensure your loved one gets the help they need.
TESTIMONIALS
Rocky Mountain Assisted Living is the best company I have ever worked for. I have been a CNA for 22 years and have worked in several different work environments. I have worked in nursing homes, assisted living homes, done home care, run an adult family home and RMAL has provided the best work environment. The residents are very well taken care of, and employees are taken care of as well.
I was impressed with how genuine and caring the staff are at Rocky Mountain Assisted Living. The owner and all management staff really care about the residents. This was a new transition for my father but they have done wonderful things with him.