As our loved ones grow older, we are often faced with difficult decisions regarding how to care for them in their golden years. Some elderly folks require around-the-clock care while others remain quite independent well into their 80's and 90's. If you have an elderly family member who is in need of some degree of assistance or if you have a disabled loved one who may need some help with day-to-day activities, you may want to consider Rocky Mountain Assisted Living with numerous locations in Lakewood, Centennial and Highlands Ranch, Colorado.
Rocky Mountain Assisted Living is proud to offer some of the highest quality accommodations and amenities for elder care in Lakewood. If you are interested in a spacious living area with immediate access to support, medical care, and engaging activities for your loved one to enjoy with peers, call us. Rocky Mountain Assisted Living offers a unique experience that can provide the care your loved one needs in a beautiful and supportive atmosphere.
What Is Assisted Living?
Some older adults may need help accomplishing basic everyday tasks like bathing, doing laundry, preparing meals, and handling household repairs. While some elderly individuals are perfectly capable of taking care of themselves well into advanced age, others require a bit more help. Some elderly people struggle with memory loss and neurodegenerative conditions, while others struggle with the physical effects of aging more acutely than others. If your elderly loved one isn't quite able to manage living on their own safely, assisted living may be the best solution.
Assisted living is not a nursing home, so you and your loved one do not need to worry about confinement to a hospital bed in a sterile treatment facility. Rocky Mountain Assisted Living has created a beautiful shared living space in Lakewood that provides the best amenities and accommodations with the full spectrum of treatment options you would expect from a more clinical setting.
Why Choose Rocky Mountain Assisted Living?
When you need an assisted living arrangement for your elderly loved one, it's essential to find a facility that offers the treatments your loved one needs to enjoy life to the fullest. Every elderly individual will have unique medical needs, and some may require extensive medical supervision or memory care. Whatever the case may be for your elderly loved one, you can rest assured the team at Rocky Mountain Assisted Living will take the time necessary to identify their needs and provide the most effective treatments and therapies available.
We believe in flexibility and encouraging our residents to exercise their personal freedom at every opportunity. Our residents are not required to follow strict schedules and instead enjoy a blend of self-direction and structured care. We provide meals based on our residents' tastes and dietary needs and strive to provide holistic assisted living services in every sense.
Treatments and Therapies Available from Rocky Mountain Assisted Living
One of the best parts of the community at Rocky Mountain Assisted Living is how easy it will be for your loved one to receive treatment for their medical issues while enjoying easy access to a wide range of engaging therapies and activities. Some of the things your loved one can expect from their time at Rocky Mountain Assisted Living in Lakewood include:
Cognitive behavioral therapy, memory care, and a full range of medical treatments suited to their unique needs. We understand that every elder has unique medical needs, including complex memory loss. Our staff is fully trained to meet your loved one's medical needs and provide the structure and support they need to minimize disruptive symptoms as much as possible.
Recreational activities, including movie nights, media events, social gatherings, seasonal parties, and much more. We believe that fun is essential for enjoying an assisted living program. We are confident your loved one will enjoy the recreational activities and other fun events we offer at Rocky Mountain Assisted Living.
Group-focused sessions that encourage interaction, reminiscence, and communication. One of the best parts about our facility is that it provides social opportunities and engagement with peers in a comfortable, laid-back atmosphere instead of a clinical setting.
Creative activities that encourage artistic and musical expression for relaxation and therapy for some of our residents. Whether your loved one would benefit from art or music therapy as part of memory care or if they simply want to spend some time creating something beautiful, we will provide supplies and the space to be creative in peace.
Outings and trips to local landmarks and scenic areas. Lakewood is a beautiful place with lots of interesting things to see, and we will make sure your loved one has lots of positive experiences inside and outside of our facility.
Outdoor activities, including light sports, backyard games, and aquatic therapy in a beautiful walk-in hydrotherapy tub.
Coordinated medical care with your loved one's preferred providers. Whether you need a new doctor or intend to stick with your local physician, we can develop a medical care plan that suits your preferences and needs.
Few assisted living facilities can offer this wide range of amenities in such a beautiful living space. We are confident that the aesthetically pleasing and supportive atmosphere we have created encourages independence for our residents. This is often one of the most critical concerns an elder will have about an assisted living program.
ABOUT OUR LAKEWOOD ASSISTED LIVING HOME
Thoughtfully selected flowers and shrubbery line the entrance to your loved one's assisted living home in Lakewood, Colorado. Each room of their intimate home encompasses the personal, warm touches you would create for your family home, but with discrete elements to make each feature of the home accessible and safe for your loved one. Bathrooms are appointed with all the interior design elements of a carefully decorated home bathroom and equipped with hand rails and accessible toilets, bath tubs, and showers a senior's changing needs.
Walk into the kitchen and you will find a place to gather and prepare your favorite meals on generous counter space and beautifully selected cabinetry. This provides your loved one with the opportunity to be as independent as they can or wish to be, while having the support of constant care from our compassionate and caring Lakewood team for meal preparation when needed or wanted.
Inside and out, every facet of our assisted living home has been designed to make your loved one's stay as enjoyable and comfortable as possible while providing them with all of the essentials they need to enjoy life to the fullest. We believe that Rocky Mountain Assisted Living offers the ideal blend of comfort, security, and support. The living space we have designed is specifically tailored to the needs of older adults. Your loved one will enjoy their own space and easy access to everything our assisted living center has to offer.
Visit the Best Assisted Living Center in Lakewood
If you are ready to find an assisted living arrangement for your loved one, Rocky Mountain Assisted Living is sure you will be impressed with a visit to our facility. See for yourself why others trust us with the care of their elderly loved ones. If your elderly relative requires specific medical care or has other unique needs, you can rest assured our team knows how to address them safely and effectively.
We offer tours of our beautiful and spacious assisted living facility in Lakewood. If you and your family are interested in the amenities, treatments, and services offered by Rocky Mountain Assisted Living in Lakewood, contact us today for more information about our assisted living program options.
Rocky Mountain Assisted Living offers an intimate home setting with progressive levels of care. Regardless of your loved one's level of independence or care requirements, they will find the balance they need at Rocky Mountain. We are dedicated to promoting independence, protecting dignity, and nurturing your loved one's functional and social needs. With a diversity of interests and personalities, our senior residents each have a unique life story. We help them to carry out their desire to live independently as long as possible, while providing around-the-clock access to medical care and assistance with day-to-day activities when needed.
Shared space
Living Room
Dining Area
Kitchen
Activety Area
Laundry
Public Bathroom
Private living space
Private Bathroom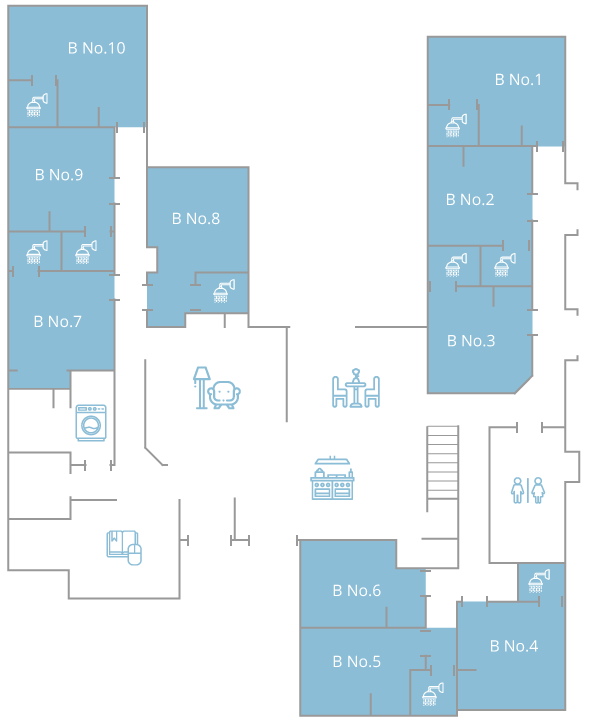 YOUR LOVED ONE'S CARE PLAN
One aspect that makes Rocky Mountain Assisted Living stand out from other facilities is that each and every client care plan at Rocky Mountain Assisted Living is custom tailored to meet the individual needs of your loved one. No two care plans at Rocky Mountain Assisted Living are ever alike. Our professional, compassionate team prides itself on allowing your loved ones to age with dignity in a setting that reminds them of their own home.
Your loved one's care plan may include any combination of the services below:
Dressing Assistance

Bathing Assistance

Ambulation Assistance

Incontinence Management

Medication Management

3 Nutritious Meals-Plus Snacks

Laundry & Linen Services
Multiple Activities throughout the Day

Scheduled Outings

Walk-In Hydrotherapy Tub

Call system in every room and Bathroom

On-Site Physical Therapy
On-Site Physician visits

Coordination of Care with your Doctor of Choice

Hospice Services

Night Time Checks

Handicap Accessible Rooms and baths
If you feel your loved one needs a service that you don't see listed here, simply ask about it, and we're sure we'll be able to accommodate you. The reason why so many families choose Rocky Mountain Assisted Living is that we treat all of our clients as if they were family. We encourage you to regularly meet your loved one's caretakers, and we are diligent about always letting you know about any changes that may be necessary to the care plan.
If you're struggling with the decision of how to provide care for an elderly or disabled loved one, please contact Rocky Mountain Assisted Living today.
Schedule a Tour
Deciding about memory care for your elderly loved one is understandably challenging. It's natural to want to see where your loved one will be living and what they will be doing on a daily basis before committing to a memory care facility's service. We encourage anyone who is interested in the memory care services offered by Rocky Mountain Assisted Living to schedule a tour of our grounds so they can see our facilities and resources for themselves.
With our support, your loved one can maintain their desire for an independent home setting, while gaining the support and security of a caring team available to meet their needs 24/7. We have limited availability. So call now to ensure your loved one gets the help they need.
TESTIMONIALS
Rocky Mountain Assisted Living is the best company I have ever worked for. I have been a CNA for 22 years and have worked in several different work environments. I have worked in nursing homes, assisted living homes, done home care, run an adult family home and RMAL has provided the best work environment. The residents are very well taken care of, and employees are taken care of as well.
I was impressed with how genuine and caring the staff are at Rocky Mountain Assisted Living. The owner and all management staff really care about the residents. This was a new transition for my father but they have done wonderful things with him.